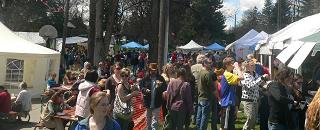 Fair status update:
We invite you to celebrate Moscow Renaissance Fair 2020 in a New Way This Year!
For forty-six years, residents of Moscow and beyond have gathered in East City Park on the first weekend of May to celebrate the return of Spring with music, singing, dancing, feasting, art, dragons, Maypoles, laughter, love, happiness, and community.
Moscow Renaissance Fair reminds us to be grateful, creative, joyful and alive.
The Fair reminds us to throw off the cold and the dark and to welcome the return of Spring with open arms and open hearts.
Out of an abundance of caution
, on this 47
th
Spring,
we will not gather live this year
in East City Park for the 2020 Moscow Renaissance Fair.
Instead, we invite each of you to let the Moscow Renaissance Fair take place in your heart.
On the first weekend of May,
celebrate
the return of Spring by seizing your power to
create inspiration
from whatever you have within you. Share your magic without guard so others smile and pass on a contagious free spirit and an unclenched optimism.
Especially in these times of COVID-19, the Renaissance Fair committee wishes to remind our community that
art and volunteerism brings us together and brightens our lives.
The musicians, the artists, and the non-profit organizations that draw us to East City Park every year will be missing your love and support as much as we will miss them.
In celebration of Spring, we invite you to
seek out artisans
who create for their livelihood.
Send them a positive message and consider ordering from their websites.
KRFP 90.3FM will be broadcasting music performed live at Moscow Renaissance Fair 2019 and previous years all weekend!
Tune in Saturday 11am - 8pm and Sunday 2pm - 7pm for some local and regional musicians, all performed live before enthusiastic Ren Fair audiences.
Simba and the Exceptional Africans
Marty Ytreberg Delta-G
Okay Okay
Palouse Forro Experience
Dodgy Mountain Men
Natalie Greenfield
and so much more!
Then
meet us all next spring at East City Park for our live celebration of the 48th Annual Moscow Renaissance Fair in 2021!
We will be double-ready to sing and dance!
---
---
---
---
T
he Moscow Renaissance Fair is a beloved community celebration of spring, taking place under the trees of our beautiful East City Park since 1974!
T
he Ren Fair is held the weekend of the first Sunday of May each year featuring:
Great music from the region on the Peter Basoa Stage


Juried craft show featuring hand crafted original art from all over the country


Food booths that provide non-packaged food provided by local non-profit organizations with profits used for the betterment of the community


Kids activities for children of all ages to play and create all day Saturday and Sunday


Parade featuring our colorful Dragon, local Bagpipers, and the Volunteer Peace Band


Costume Contest judged by the public


Maypole Dance open to the public with live music
And all this is free to the public!
W
e take pride in being one of the longer standing community supported fairs in the region without traditional event sponsors.
We take pride in our recycling program, reducing the fair landfill waste by 90% since the 90's.
We take pride in accommodating our arts and crafts vendors with a hospitality booth.
We take pride in featuring original artwork on our poster and program every year.
We take pride in honoring local community heroes annually as our Kings and Queens of the fair.
We take pride in our Renaissance Fair, a celebration of spring rain or shine!
Enjoy this video of the history of Renfair as told by Jim Prall and Bill London. These clipse are part of "Moscow Renaissance Fair, The Movie" filmed in 2006.
Jim Prall 2006 - excerpt from "Moscow Renaissance Fair, The Movie"
produced by Marsha Schoeffler
Bill London 2006 - excerpt from "Moscow Renaissance Fair, The Movie"
produced by Marsha Schoeffler