30th anniv graphic by Janna Jones

The Moscow Renaissance Fair is a two-day celebration of spring with live entertainment, food, and crafts for kids and adults of all ages.

Free admission.
No dogs, please.
Alcohol is not allowed in the park.
---
Moscow Renaissance Fair
Saturday May 2 and Sunday May 3, 2015
East City Park, Moscow, Idaho

---
We are gearing up for the 42nd annual Moscow Renaissance Fair with outstanding music and entertainment, wonderful food, and unique hand-crafted arts and crafts.

Admission is FREE to the public. The Moscow Renaissance Fair is a non-profit organization. We are self-supporting and accept no corporate sponsorships.

The Fair is held outside under the trees at East City Park, Third and Monroe Streets, the weekend of the first Sunday in May.

Craft booths operate 10:00 to 7:00 Saturday and 10:00 to 5:00 Sunday, rain or shine.

Two performance stages. Main Stage entertainment goes from 10:00 to 9:00 Saturday and 10:00 to 6:00 Sunday. Stage II 10:30 to 5:00 Saturday and Sunday.

All food booths are non-commercial, profits from which go to betterment of the community.

Watch and join in the parades and the public maypole dances. There will be lots of activities for children as well.

---
Bring Your Own Reusable Water Bottle — we will have a fountain and water bottle refilling station with filtered local water again to quench your thirst.
---
Queen Arlene Falcon

"A long, strange trip," is how Queen Arlene Falcon describes her journey from Flushing, Queens, New York to Moscow, Idaho and the ensuing 15 years as a community leader and owner of Tye Dye Everything. Arlene realized her passion for "getting things done" while working toward her degree in Urban Studies and Community Planning at the University of Michigan. She eventually settled at Pokey Creek, near St. Maries, and raised five kids and a business. Activities for her children at the Moscow Mardi Gras and Renaissance Fair first drew her to Moscow, and then in 1998 she opened a small retail shop near the UI campus, selling her tie-dyed wares on weekends. In 1999 she moved to Moscow and Tye Dye Everything into the Purple Mall.

Arlene volunteered as vendor liaison for the Moscow Renaissance Fair in 2000 and has been on the planning committee in that capacity ever since. She also DJs one of the longest-running radio shows on KRFP Radio Free Moscow, spinning Grateful Dead every Wednesday night from 9:30-11. When the Moscow Hemp Fest needed some TLC in 2006, Arlene volunteered to organize the annual festival and continues to do so. In 2007, she and Queen Louise Todd helped to start Buy Local Moscow to better network with and increase the impact of locally-owned businesses. She believes cooperation, not competition, will build up our community.

Queen Louise Todd

Queen Louise Todd is originally from Manchester, England and grew up in Boise. She came to Moscow in 1997 to attend UI and completed her degree in American Studies with an emphasis in Native American Studies in 1999, the same year she began working at Mikey's Gyros. The community-minded philosophy of the mom-and-pop business was to her liking; she became manager and has been part-owner of the restaurant for the last nine years. Louise was also a KUOI disc jockey for many years and, between the friends she made there and through Mikey's loyal customer base, has developed the network of people that makes Moscow very much her home.

Louise lives the civic-minded concept in personal ways. First, pursuing her dream to find and provide books in the Nimiipuu language to local children, she co-founded a First Book chapter here on the Palouse. First Book is a national organization that gives books to kids in need, and so far the local group has distributed books at the Palouse Prairie, Russell and Potlatch schools. She also has been president of Buy Local Moscow since helping to start it in 2007. She continues to weave a strong fiber of friends who own and operate local businesses, especially downtown, with the philosophy, "Cooperation rather than competition is the key to success in Moscow."
Congratulations to our 42nd Annual Moscow Renaissance Fair poster artist Janet Vogtman.
Janet Vogtman, left, with Moscow Renaissance Fair
president LuAnn Scott, at the poster unveiling.
Photo by David Hall
---
Support Your Local Renaissance Fair — volunteer opportunities are available both leading up to and at the fair. For information please contact the MRF President.

---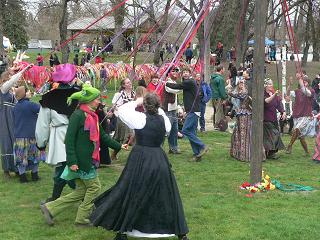 ~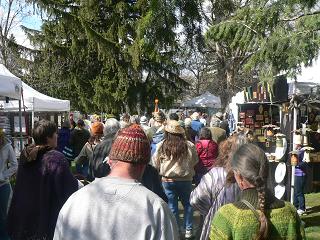 ~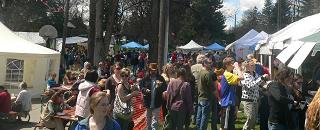 photos (c) 2011 David Hall

Listen to KUOI-FM's live coverage of the Peter Basoa Stage during the fair.
---
Moscow Renaissance Fair | P.O. Box 8848 | Moscow, ID 83843 USA
moscowrenfair.org
facebook.com/moscowrenaissancefair
At the Fair
Peter Basoa Stage (2015)
Stage II (2015)
Craft booths (2015)
Food booths (2015)
Program (2015)
Map of the fair (2015)

Applications
Craft Vendor Info (2015)
Food Vendors (2015)
Poster contest (2015)
Main Stage (2015)
Kid's Market (2015)

The RenFair Story
* Ren Fair history
* Photo gallery
* Poster gallery
* Program gallery


* RenFair contacts
* Lodging information
* Thanks!
* Make a donation

* Vendor parking info