30th anniv graphic by Janna Jones

The Moscow Renaissance Fair is a two-day celebration of spring with live entertainment, food, and crafts for kids and adults of all ages.

Free admission.
No dogs, please.
Alcohol is not allowed in the park.
---
Moscow Renaissance Fair
Saturday May 6 and Sunday May 7, 2017
East City Park, Moscow, Idaho

---
Welcome to the 44th Annual Moscow Renaissance Fair
Spring has arrived and so has our glorious fair! We welcome you to shake off the winter doldrums, browse the artisan booths for the perfect gift, partake in homemade food, and enjoy great music in the company of friends and neighbors. As always, there are dozens of things for kids of all ages to see and do. We are proud of the fact that this is an ecologically responsible event, where recycling is practiced throughout the park. The Moscow Renaissance Fair is funded by the booth fees of food and craft vendors and by personal donations.




---
All Hail Queen Kathy and Queen Tabitha!
Kathy Sprague has deep roots on the Palouse. Her grandmother graduated from Moscow High School in 1927 and her dad led the Sociology/Anthropology Department at U of I. After a brief stint in Seattle, Kathy returned to Moscow and opened Safari Pearl. Tabitha Simmons was born in Moscow where her parents attended U of I. Her family moved around the west while her father was in the Navy, then returned to Moscow in 1979. She has lived in Moscow ever since. Kathy and Tabitha met in 1990. 27 years later, they still run Safari Pearl and Eclectica, host the TabiKat Drag Shows, and are slowly turning their home into a micro-farm.

Volunteer work is vitally important to Kathy and Tabitha. They are long-time organizers with Inland Oasis for Palouse Pride. They have served on the Board of Officers of Women of the Moose for 10 years. Kathy has been on the board of the Humane Society of the Palouse and is past president of Moscow Mardi Gras. They organize fundraisers for many local organizations. Their passion is to help people who are often marginalized to feel safe and welcome in the places and spaces that Kathy and Tabitha create. Their store and their drag shows are havens for nerds, women, queer and trans folk, awkward youth, and anyone else who needs a "space that fits." They strive to create environments in which everyone has an opportunity to freely experience life and learn from those who walk different paths. Tabitha and Kathy believe that mutual respect, appreciation of differences, and love are the way forward for all.



Photo by Geoff Crimmins
Please stop by the Royal Tent to say "hello" to your Queens – and ask Kathy about her ducks!

---

Photo by David Hall
Congratulations to Meghan Antkowiak of Moscow, the winning designer of this year's Moscow Renaissance Fair poster.

Meghan received her BFA with an emphasis in three-dimensional design from Michigan's Alma College Department of Art and Design in 2013. That year she moved to Moscow, where she is involved in art shows, commissions, and giving private lessons. Mythology, legends, and nature inspire her. She especially enjoys sharing snapshots of these themes in her illustrations. Meghan's pieces will be on display during the upcoming Moscow Artwalk and can be seen on Instagram. Meghan and her husband Tyler have two sons, John and Brock.

An exhibit of past Moscow Renaissance Fair posters can be enjoyed through May at Mikey's Gyros in downtown Moscow.
---

Admission to the fair is FREE to the public. The Moscow Renaissance Fair is a non-profit organization. We are self-supporting and accept no corporate sponsorships.

The Fair is held outside under the trees at East City Park, between Third and First and Monroe and Hayes Streets, the weekend of the first Sunday in May.

Craft booths operate 10:00 to 7:00 Saturday and 10:00 to 5:00 Sunday, rain or shine.

We have two performance stages. Main Stage entertainment goes from 10:00 to 9:00 Saturday and 10:00 to 6:00 Sunday. Stage II is 10:30 to 5:00 Saturday and Sunday.

All food booths are non-commercial, profits from which go to betterment of the community.

Watch or join in the parades and the public maypole dances. There will be lots of activities for children as well.

---
Support Your Local Renaissance Fair — volunteer opportunities are available both leading up to and at the fair. For information please contact the MRF President.

---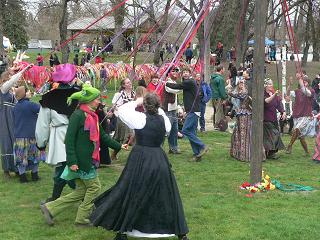 ~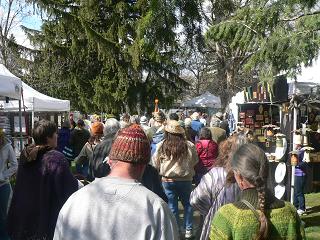 ~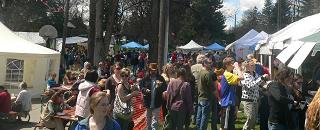 photos (c) 2011 David Hall
---
Always the weekend of the first Sunday in May.
---
Moscow Renaissance Fair | P.O. Box 8848 | Moscow, ID 83843 USA
moscowrenfair.org
facebook.com/moscowrenaissancefair
At the Fair
Peter Basoa Stage (2017)
Youth Stage (2017)
Craft booths (2017)
Food booths (2017)
Program (2017)
Map of the fair (2017)

Applications
Craft Vendors (2017)
Food Vendors (2017)
Poster contest (2017)
Main Stage (2018)

The RenFair Story
* Ren Fair history
* Photo gallery
* Poster gallery
* Program gallery


* RenFair contacts
* Lodging information
* Thanks!
* Make a donation

* Vendor parking info